Steven Rene Jacobo
Name: Steven Rene Jacobo
Tribal Seeds / Vocals / Composer
Where does the muse for your lyrics and music come from? I've always listened to the messages in roots music and that made me look more into the bible. That's where my main inspiration for writing comes from. I've always felt a deep connection to the lyrics of reggae legends and I just want to continue that message.
What is your favorite thing about being a musician? Favorite thing is just being able to make a living from doing what I love. To be able to travel, playing music for our fans is something I truly feel blessed about.
We hear you've read the bible from cover to cover. What is your favorite story or book in it? Shadrach, Meshach, and Abednego. They had no fear, no fear at all.
Where does your love for reggae music come from? My parents always used to play reggae music in the household so I grew up listening to it. Glad my parents had good taste, ha.
Is there any social, political, or environmental issues that you are passionate about and want to help change? I mean there's a lot of problems going on environmentally and politically and it keeps getting worse but the outcome of all this is written in the book.
How do you relate to Todo Tranquilo's message? I relate to Todo Tranquilo because I love peace and tranquility. It's nice to just ease your mind and enjoy life for its natural beauty and to celebrate it with good people.
What are you listening to at the moment? I've been starting up a vinyl collection so I've been buying a lot of the classic reggae albums. Some of my favorite ones are Culture - International Herb, Steel Pulse - Handsworth Revolution, and Jacob Miller - A chapter a Day. Just to name a few.
What would be your advice to someone who might be considering giving up on their dreams or aspirations? I would say to devote yourself to what you love and things will fall into place.
Favorite quote: "Practice noble silence"
Qualities you look for in a woman: Beautiful, chill, and has noble ambitions. Ha.
Latest cool discovery:
Who do you look up to? I look up to a lot of the reggae legends who started this music with such talent, creativity, and spiritual drive.
If you weren't playing music what do you think you would be doing? I honestly don't know what I'd do if I didn't play music. But I'd try to do something I love.
Anything else you would like to add? Just want to say thanks to all the fans and people who took the time to read this. Also want to thank Tony from Todo Tranquilo for having me and for promoting good culture.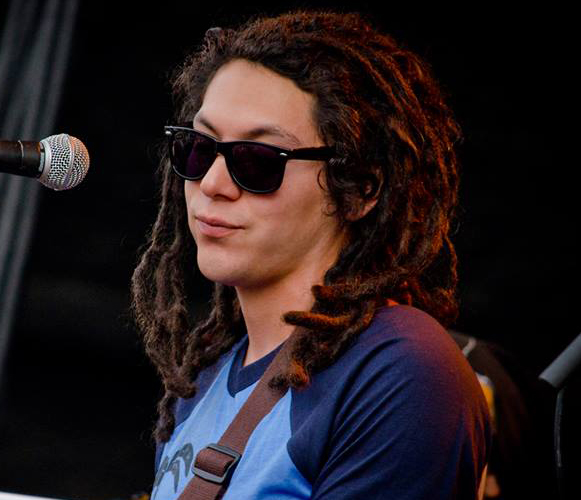 Billy Winslow
Name: Billy Winslow
Soul Surfer
How did you get into surfing? I grew up in Encinitas and my dad surfs so I was always around the ocean, then my dad taught me to surf on Kauai at Pinetrees beachbreak by the pier when I was 5 years old and it's the lifestyle I've chosen since then.
What do you enjoy the most about surfing? Warm water and deep barrels.
What athletes or people in general inspire you? My parents, Greg Russ, JS, and Flaco Moises Landa.
We know you love surfing down in Mexico, whats the scene like down there? Mexico's coastline is so long needless to say it's full of some of the best waves in the world and beautiful beaches.
Does your well spoken spanish come from all your previous visits to Mexico? I've always loved Mexico and wanted to speak spanish ever since the first trips in grade school. The big inspiration to learn the language was on a trip I took in 2006 to Mainland Mexico with a friend a year older than me, who already dominated the language and spoke comfortably in conversation. My current spanish teacher is my girlfreind Vanessa from Colima who I've been with for 3 years.
What are your aspirations as a human being? Live a long healthy life in company of my family and freinds
How do you relate to Todo Tranquilo's message? Todo Tranquilo is everything I'm about, I love the ocean, speaking Spanish, and I want to continue to spread the message of peace and good vibes.
How is your recovery coming along after such a devastating injury in the water? After a year out of the water I cherish every moment in the ocean and being able to wake up everyday and go surfing.
What were you feeling the first time you were able to paddle out and surf again? Being in the ocean has always been a big part of my life so the first time back in the water after a year was like a fresh breath of air. I'll never take this lifestyle for granted again.
Tell us a bit of how you scored such a cool board in Mexico: The board I've been riding recently is a 6'0'' stretch quad that Bruce Irons rode in a big swell this summer in Mexico. One afternoon I saw a local guy who had picked up the two pieces of it and was carrying it up the beach. Besides being broken it looked like a brand new board so I asked him what he wanted for it and he happily traded it for the two cold caguamas (40 ounce beers) I had.
What place would you like to visit and surf? It's been almost 3 years since I've been to Kauai and O'ahu and I'm really looking forward to getting back over there.
What are you listening to these days? Only roots music like Steel Pulse, Cultura Profetica, Midnite, Tribal Seeds, Gondwana, and Enanitos Verdes. Roots reggae and especially music with spanish lyrics.
What advice would you give to someone who is considering giving up on their dreams and aspirations? Phil 4:13
Favorite meal after a long day in the water: Tacos de adobada y unas cervezas Victoria.
Qualities you look for in the opposite sex: Brown eyed virtuous girl.
If you had the power to change something for the better of humanity, what would it be? Stop racism and break the boundaries that divide us.
Anything you would like to add? Creo en un solo Dios, Padre Todopoderoso, creador del cielo y de la tierra de todo lo visible y lo invisible.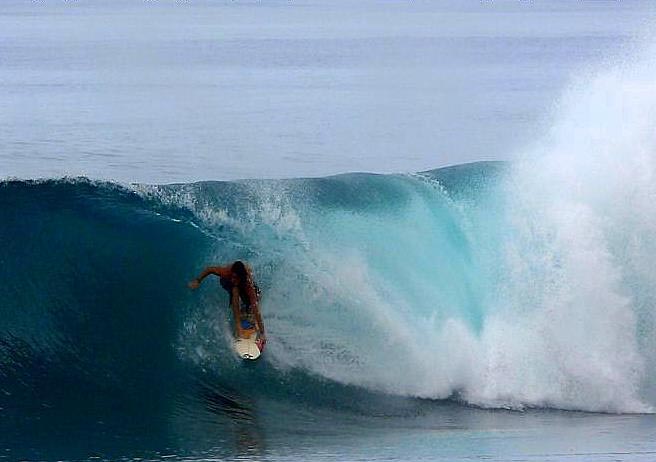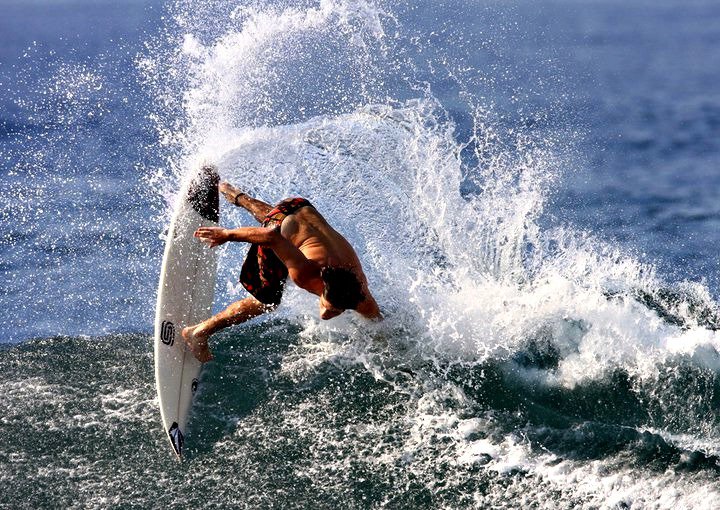 Star27
Name: Star 27
Location: Mexicali, Baja California. Mexico
Artist / Muralist
Where did you grow up and what was it like? I grew up in Mexicali in a very united Mexican family. I would say I had a normal life, playing soccer, trompo, yo-yo, los encantados, etc. Just fun traditional Mexican games.
Do you remember the first time you discovered an interest for art? Yes, everything started with a painting my father had in his office. It was a gift his friend gave him, who was an artist. That painting has always caught my attention.
How do you think art influences our society? Art is all around us, it's everywhere. I think it influences people even without them knowing it. On my behalf, I try to influence people in a positive way decorating the streets with colors in the places I visit.
What is the art scene in Mexicali like? Is there a movement and galleries happening? The art scene in Mexicali is growing really fast. We are obviously not at the same level as LA, SD, Mexico D.F. etc, but opportunities are opening and people have been very receptive of the emerging art scene. Currently there are very few galleries and we artists have to find our own space and places to expose our work.
We've seen some of your mural work. How long do you have to prepare before you actually start the mural painting? Projects are always different. Generally I paint a mural in a day because of the weather in Mexicali, which is where I mostly paint. The weather here is too extreme, either too hot or too cold. For big projects, I like to prepare ahead of time and have all of the material ready. It usually takes me a day or two to complete these big projects.
How would you describe your art? My art is pure color that includes abstract shapes, eyes, faces, and continual lines. It's a very friendly art and it adapts to any space or environment.
What has been the key element in developing your skills? School? Practice? Practice, Everything I know I learned it in my 12 years I have been painting.
Do you like collaborating with other artists? Yes, although I am very selective. My experience has taught me to do things of better quality every time. I try to collaborate with serious artists who value their work and mine. This enables me to obtain a result that makes us both proud to share.
What is the most challenging aspect of being an artist in Mexicali? There are different type of challenges. One is the lack of support that the artists in Mexicali receive. Another challenge is to stand out from the rest, being proactive and consistent helps one progress. Like I mention before, the extreme weather can also make it challenging for artists.
Where do you get your inspiration from? My family, my music, my work, beer, and from my friends.
Do you enjoy doing murals more than canvas work? Yes because more people have access to see my murals. Generally I paint them in well seen places.
Where do you see you and your art 5 years from now? In more cities in the United States and Spain would be rad too.
How do you relate to Todo Tranquilo's message? It's a very relaxing phrase that goes along really well with my line work. I think a lot of interesting things will come from this project.
Fav quote: Unas Cheves!!
Most memorable moment as an artist: There's many, what excites me the most is for people to recognize my work and liking it.
What inspires you the most? My wife.
Advice to anyone out there trying to pursue an art medium: Just go for it, practice and don't stop practicing.
Where can people find your art? www.facebook.com/star27mexicali www.instagram.com/star_27
Anything you would like to add? Thanks for all the support.
Reed Dolman
Name: Reed Dolman
Place of Birth: Honolulu, Hawaii.
Occupation: Student
When did you start surfing? I started surfing when I was about 11.
Favorite place you've traveled to surf? Costa Rica.
Whats your favorite thing aout being out in the water? Being able to relax.
Favorite Surfer/s: Andy Irons, Joel Parkinson.
3 words that describe you? Young, happy, weird.
We hear you also like art, what form of art do you enjoying doing the most? I like painting and ceramics a lot but recently I've been doing a lot of digital art using photoshop and illustrator.
Is there a relation from your art to your surfing? In both art and surfing I draw lines.
Do you sell your art? If so where can people find it? I haven't really been selling my art but now a days I've been making a little bit of money doing some graphic design.
Favorite traits in the opposite sex: Nice body.
What inspires you? Nature.
Do you have a favorite quote? "The earth has music for those who listen."
How do you relate to Todo Tranquilo's message? I'm a simple person who simply likes art and wave riding.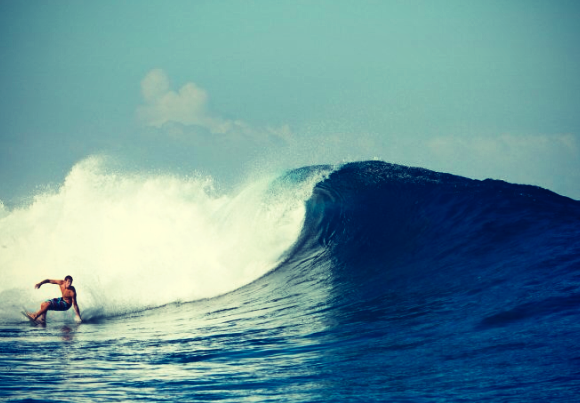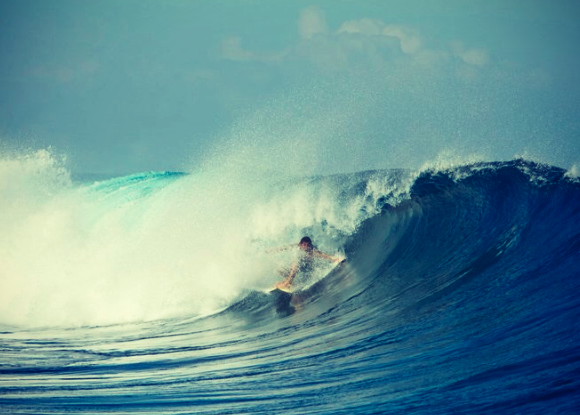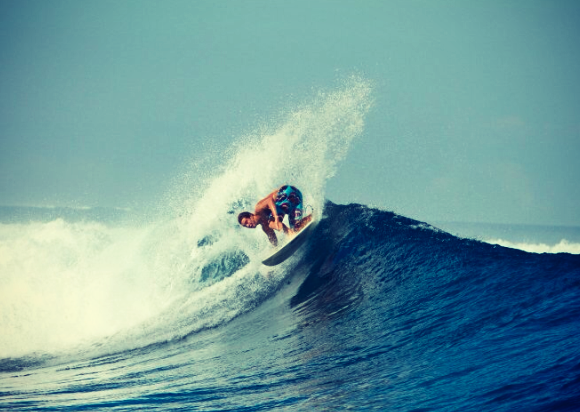 Eric Rachmany
Name: Eric Rachmany
Nickname: Rock (Rach)
Place of Birth: San Francisco, CA.
Occupation: Musician (Singer/Guitarist for Rebelution)
Where did you grow up and what was it like? I grew up in the Sunset District of San Francisco. SF is a pretty diverse place. There was lots of good food, especially in my neighborhood. I never felt like I was in danger growing up in my district but because it is a city I always had to look out for myself anywhere I went.
Earliest memory of playing music: 5 years old at the piano. I can still remember the first song/melody I made up.
Where does your motivation come from? I suppose just from my observations and the people I meet.
What does it feel like to play music in front of all your fans? It really never gets old. I truly love performing. I can have a terrible day but once I get on stage ALL my troubles go away. Hearing and seeing the fans sing the music back to me keeps the energy flowing.
What musicians or bands do you look up to? Don Carlos, Dave Matthews.
What has been your most valuable lesson and why? To be thankful. Life is a gift. What we do with our time here is our gift back to mother nature.
What is something music has taught you? It helps me see a brighter and cleaner perspective on life. Sometimes my vision becomes so cloudy and I lose grasp of things. Music brings that reality check to me. It's purely meditative.
What do you think is your biggest responsibility as an artist? To help others feel that sense of clarity I get when I listen to music. Also to spread positivity in the lyrics and melody I create.
Why is it important to recycle and take care of our environment? We need to make sure we take care of this planet. The more we re-use the more longevity we have.
Your thoughts on fast food restaurants: Unfortunately the FDA doesn't care about the health of this country. I hope to see fast food chains start incorporating healthier options.
Something you are proud of and why? I'm proud of myself for keeping an open mind to the universe. I take pride in my openness to every religious belief. I believe it's stubborn to think your own spirituality is the "correct" one. We are all different and should be appreciated for all these differences.
What are you favorite personality traits in a lady companion? A girl that has a sense of humor is important to me. Also I love a girl who sets an example of kindness to others.
Currently listening to: Million Stylez
Favorite Book or Author/s? Gary Shteyngart "Super Sad True Love Story"
Latest cool discovery? The Settlers of Catan
How do you relate with Todo Tranquilo's message? Music puts me in a meditative state. When I compose or simply play a melody on my guitar I go to a different place. Similar to other art forms, music keeps me calm. It is a release of emotion and internal thought. When I think of Todo Tranquilo I think about the peaceful state of mind I am while immersed in the art form of music.
Where can people find your music? www.rebelutionmusic.com or www.facebook.com/rebelution
REBELUTION - Sky is the Limit [Official Video]
Rebelution - Sky is the Limit
Adam Taylor
Name: Adam Taylor
Place of Birth: London, England
Occupation: Musician
Instrument: Bass Guitar
Stance: Regular
Where did you grow up? and what was it like? I grew up traveling a lot because my dad was a pilot, but I spent most of my childhood in Hawaii. Growing up on an island was a really cool experience and helped shape my love of music and surfing.
Earliest memory of playing music and surfing: Earliest surfing experience was 8 years old on the boogie and music came around the same time.
What does it feel like to play music in front of all your fans? It feels great. It's an amazing feeling to connect with people in a live setting through our music.
What inspires you? I get inspired by watching others do well, whether it's in music or surfing. Seeing another band approach their live set is always inspiring, as is watching other people rip at surfing.
Coolest venue or city to play a concert? I really like playing the Santa Barbara Bowl.
Favorite surf trip destination? I'd love to go back to Indonesia and do some exploring by boat.
What is something the ocean has taught you? Humility and determination.
If you could travel to anywhere in the world, where would it be? I'd love to travel to South America.
Advice to an aspiring musician? Believe in yourself and put in the hours.
What are some goals you're still trying to accomplish? We haven't played internationally yet and thats a goal I'd like to accomplish.
Why is it important to recycle and take care of our environment? It's important for us as individuals to minimize the waste we generate and recycling helps reduce the negative impact of that. Here in California it's not safe to surf after a rain, and thats a result of us not taking care of the environment around us.
Something you are proud of and why: I'm really proud of our band Iration. It's been really amazing to see something grow from nothing, and it's been a great feeling to know we are impacting people in a positive way.
Personal Pet Peeves: Negative attitudes!
Currently listening to: Crystal Castles, UB40, Two Door Cinema Club.
What do you want out of life? Good waves.
Favorite Book or Author/s? I love the Jack Reacher series by Lee Child.
How do you relate to Todo Tranquilo's message? I am inspired to be a positive role model on stage, in the water, and in every day life.
Where can people find your music? www.irationmusic.com
Iration - Turn Around (Live by MoBoogie)
Israel Rodriguez
Name: Israel Rodriguez
Nickname: Igato
Place of Birth: Aguadilla, Puerto Rico from mexican parents, and raised in Mexico City.
Artist/Photographer
At what age did you discover your passion for art? I was about 6 years old. I loved drawing all the cartoons I would watch on TV, especially Mazinger Z.
How would you describe your style? Like a flow of energy coming straight from my soul.
What is your favorite aspect of painting? I love being able to disconnect myself from all the distractions of our daily life. When I start painting it slowly takes me to a place where time doesn't seem to exist, I enter into a new dimension, into my own world.
Who do you look up to? My mother and my grandmother. They both raised me and taught me to be respectful. They taught me to always be willing to help someone without expecting anything in return.
What would be three words to describe your art? Passion, Culture, Roots.
Why do you like panting portraits of classic reggae artist's? I identify myself with them because they have created the person I am today through the power of their music, and their devotion to god. I feel obligated to render a tribute to them.
What fascinates you the most about the portraits? I love being able to capture the essence of a persona, conveying their natural expressions and emotions.
What would you like people to feel or think after looking at one of your pantings? I would love for them to like the art, but mostly I would love for people to get to know more about the artists I paint and the message in their music. Once knowing who these people were and did, one can have a better appreciation for the painting itself.
What inspires you the most? What inspires me the most is being at peace with myself and being surrounded by good company, like my family and friends. I love watching everyone getting along in harmony, living inspired too from their own projects and aspirations. Seeing everyone at peace and inspired inspires me.

What is your favorite medium and why? I like using acrylic paint because it dries fast, which helps correct errors faster if you're changing ideas or need to fix anything. You can also paint over it and take a different route if you decide to.
Favorite style painters? I like the Renaissance Era, painters like Caravaggio, Michaelangelo, Da Vinci, and Peter Paul Rubens.
How do you relate to Todo Tranquilo's message? I relate with Todo Tranquilo's message because I feel like it's describing me as a person. Im tranquil and friendly. I'm good friends with Tony the owner and it's definitely the vibe we share, todo tranquilo.
Where can people buy your art or contact you for a custom panting? They can contact Todo Tranquilo at info@todotranquilo.com or they can contact me directly at igato@hotmail.com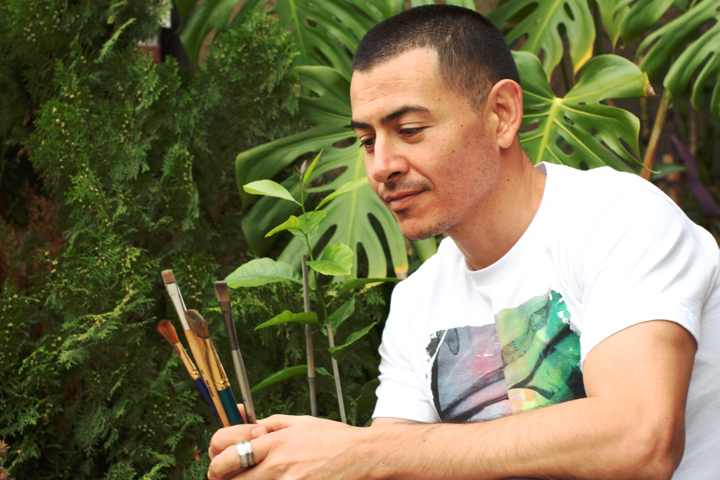 El Fabirucho
Name: Fabian Pacheco
Nickname: III ( I sign my art with three lines )
Place of Birth: San Jose, Costa Rica.
Where did you grow up and what was it like? Born and raised in Costa Rica. It's laid-back, the Pura Vida way of life led me to where I am now. My Costa Rican roots shaped and taught me a fair share of values symbolic to my way of life and how I want to live it. Costa Rica will always be my home and will eternally be close to my heart wherever I am.
Tell us about your early morning missions to go surf in Costa Rica before school started: Jeez. Those were the days! Waking up at 4am with our boards already packed in the car and breakfast sandwiches ready to go since the night before. We usually tried to go to bed early, but you know how it goes before a surf trip, you end up rolling around in bed more than you sleep, waiting for the alarm to go off. Two hour and a half trip from San Jose to playa Hermosa. Usually surf for about 3hrs and quickly hit the road back with hopes on making it to school back on time. No shower and exhausted we would pass out during our lectures, good thing we got attendance point.
How did you get into Art? Both my mother and my sister are artists, I guess I ended up doing it by default. Check out my sister Allegra Pacheco, she is a rad photographer/artist.
What do you like the most about being out in the water? Apart from surfing itself, thinking. I usually tend to sit by myself, It's that one time a day I get to just sit and think.
If you could travel anywhere in the world where would it be? Skeleton Bay, Namibia. I have a thing for African wildlife and never ending barrels.
Do you showcase you art in local galleries? Not yet, hook it up!
Why is it important to recycle and take care of our environment? Because it is our home, our backyard. We play in it everyday, it is every surfers responsibility to give back to what gives so much to us.
What are your favorite personality traits in a lady companion? Artsy, down for adventure. No pansy chicks! Down to road trip.
Pet Peeves: Waiting on people.
Currently listening to: 1980-1990's Punk Rock.
How do you relate with Todo Tranquilo's message? It represents the Pura Vida way of living from Costa Rica and thats the way I want to live.
Where can people find you surfing? I'm currently living in Newport Beach so I would say around here, SoCal.
Where can people find your art? I'm working on a blog, I'll keep you posted.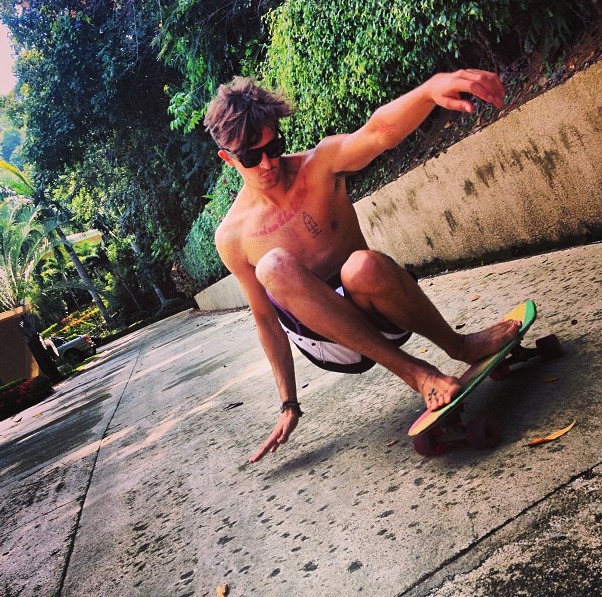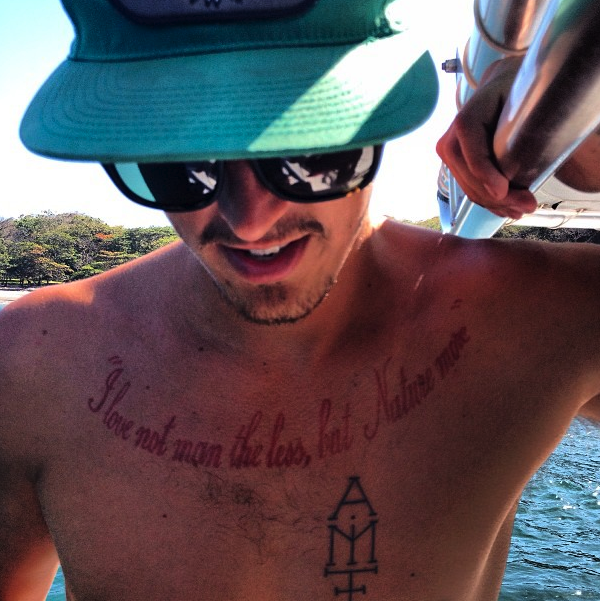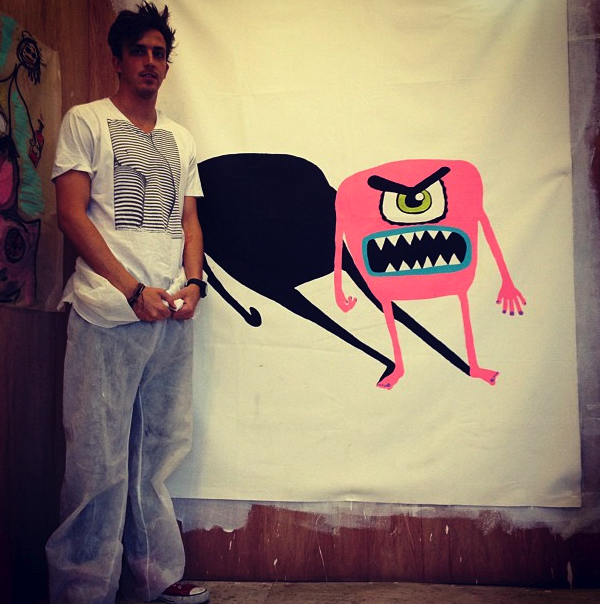 Tony Navarro
Tony Navarro is the founder and executive director of art and design for Todo Tranquilo. The concept and vision for Todo Tranquilo came from his passionate admiration for the ocean, world cultures, and the arts. Todo Tranquilo simply started as a fun way for Tony to channel his creativity, and now the concept has inspired the desire to create an empowering platform for youth and community development where creativity and culture can thrive, creating a synergy to inspire and become inspired.
Favorite music? I go through stages when it comes to music but my favorite sounds are afro-cuban ensembles of jazz and salsa, roots reggae, and rock in the representation of indie or electronica. Classical compositions are fun to listen to too.
Favorite Quote? The way of peace insures internal growth and stability. It is a movement of self purification. -Gandhi
If you could travel anywhere in the world where would it be? Africa, Thailand, Japan, and certain areas of southern Mexico and Central America (la vieja Mesoamerica) where pre-"hispanic" African people settled, specifically the Olmecs. Who I think were the early roots of the Amerindians in Las Americas.
Latest cool discovery?
Anything you would like to add? Thanks to everyone who supports Todo Tranquilo. Special thanks to our Ambassadors and to my family who always works as a team to get things done.